Mr Defeu is off on a trip again, and so when I found this old post it really resonated with me…. Originally posted on 6th Oct 2008.
Mr Defeu got home last Thursday night, and I promptly got sick. And then he had family-crisis stuff to deal with. So the best I could do as his girl was to have yummy food prepared for him, and surprise him with his desk all cleaned and neat and polished. (Most of the house was supposed to also be this way, but see above about the getting sick part, which threw the wrench in those plans!) I was scared that the weekend would go by with just dealing with family stuff. And also, when I get sick, he gets all in Daddy mode and wants to snuggle and pamper me.
Now, don't get me wrong, I like being snuggled and pampered as much as the next girl, but when it means his Mean Scary Dominant Self gets turned off – then I'm a sad girl, because I live for our scenes. When he growls roughly at me to do something, my knees turn to jelly and other parts of my anatomy do fascinating things. When he gets all sweet and loving, it's great … but well, it's like flavours. I like to eat sweet stuff (oh yes I do indeed!) but I also crave rich, hearty, savoury flavours as well. Think of discipline and the various pains of spanking, caning, etc., as Boeuf Bourguignon, and your favourite sort of pizza, and spaghetti the way your mom made it, and creamy Potatoes Au Gratin, and sushi, and chicken satay and Tom Ka Gai, and a Monte Christo or Croque Monsieur or your favourite sandwich or burger, and, and, and … all your favourite savoury foods!
Happily, some of that yummy stuff was coming my way. He said he needed a nap, early Sunday evening, and I despaired. But then he saw I was upset and pointed out that after the nap, he would be refreshed…. He slept for about 45 minutes, and then I went in and joined him in the bed, and snuggled with him as he napped, and just enjoyed lying in bed with him, feeling his warmth and hearing his breathing, as I looked out of the window at the night-time city lights.
Eventually he stirred, and reached for my hand, and pulled it down to his cock, which was obviously wide awake and ready for action.
I laughed with delight, and said, "You should take lots of naps, Sir!"
Then I didn't say anything for a while, because I was sucking his cock.
Apologies all, for coming back with a vengeance and then disappearing again. I was all set to put some real time and energy back into this blog … but then the novel I've been wanting to write finally started flowing, and I've been putting all my energy into that, because I would actually like to get the thing written and published in this lifetime. I can only do so much writing in a day (and so much non-immediately-paying-work, or things start to get a little uncomfortable in the wallet region), so for the next I don't know how many months, I'm only going to be up here when I can steal a moment or two from the novel.
A funny thing I wanted to write about writing the novel is that I've been working on a sex scene these past two days, and it's taking me way longer to write what is essentially a vanilla sex scene than it would to write a nice spanko piece of erotica. Not that I wouldn't put a spanking scene in the novel, but it's not the right place for it in that spot. Since it's not a spanking scene, I'm trying to write a really good vanilla scene — one that authentically turns me on, but is not too filthy to sell to a normal publisher. (Although I have been noticing that novels now can have scenes as explicit as any porn — it's just a matter of not having them be too kinky without at least a tenuous reason.)
So, it's taking me waaaay longer to write this quite basic scene, then it would for me to write a much more intricate spanko one. Amusing.
Also amusing: Chross just recently posted a James Bond clip I'd forgotten all about, but which certainly turned me on when I was a teenage girl watching the all Bond flicks for the first time:
Of course, now I'm going to have, "Gold — fingah!" being sung in my head all day by Shirley Bassey. [sigh]
I see Chross one Bond film, and raise him a Star Trek spoof with equally delightful sexism:
The whole joy of being a post-feminist, I feel, is getting to eroticise being treated like a brainless "little lady," a second-class citizen who is expected to stay at home and keep out of the men's way, dear, we've got some real business to attend to. Why don't you go make us some coffee, there's a good girl!
There's something so hot about that for me. That casual, "I can slap your bottom any time I like because I'm the superior man, and you are basically a pet who can do the cooking and wash up (if you don't need someone with superior brains and/or strength to fix something first, that is, in which case I will shake my head and give you the help you need with noblesse oblige oozing out of my ever-so-superior pores)." I like that I can choose to live in (or visit!) that world. (Of course, it's the fact that it's a choice that makes it hot, so I thank my bra-burning fore-mothers for that.)
It reminds me that the other night Mr. Defeu and I were watching TV, and there was something on about a culture (or something — I'm blanking on it, now) where the women are inferior to the men. I turned to him and gave him a nudge and said, "Oh, like in Blushes or Janus! That's your sort of world!"
"No," he replied with the calm smile of someone about to smoothly deliver a punchline, "Not inferior … just different .. and subordinate!"
Phwoar! (A., What a sexy delivery — I'm so turned on by that sort of thing, and B., that relaxed and certain superiority is just what I was talking about above as being hot for me. Double whammy!) That sort of thing just makes me want to go off and have the kind of hot kinky sex where I am obviously there for his pleasure, because that's what a wife is for, to serve and please her husband, right?!
Ooooh! I'm all hot and bothered, now. Maybe must go have a moment of, ahem, personal relief before I go back to writing my novel!
Today's fantasy comes from the article "Papal crackdown on bare-kneed tourists sparks hypocrisy claims" from The Register:
The Vatican's stripey knickerbocker-clad Swiss Guards have launched a crack down on scantily-clad tourists in and around the Holy See.

Reports say that a long-standing modest dress decree has been extended from St Peter's basicilica – the big church – to the whole of the Vatican mini-state.

The Pope's halberd-waving steel-hatted private army has apparently been forcing quivering tourists into corners to berate them for having uncovered shoulders or knees. While some have been directed to nearby traders specialising in more modest apparel, others have been refused entry to Vatican City altogether, The Telegraph reports. [...]

The crackdown has angered some visitors, who said it was hypocritical for an organisation beset by child abuse allegations to suddenly get all hot and bothered about ladies' shoulders and men's hairy knees. Still, when it comes to driving Satan out of the Vatican you've got to start somewhere, so why not with spaghetti strap tops and Bermuda shorts?

It should be noted that the guards wear a 16th century outfit including a natty doublet and voluminous pantaloons, and while the pantaloons stop above the knee, the offending joints are covered by coordinated stockings. Their wardrobe also includes a knee-length doublet.

The pope himself generally wears a floor length cassock, which this week he has apparently been teaming with a baseball cap in pontifical white.

(The above lovely shot of the Vatican Guards is from Wikipedia.)
This of course has spawned some serious Swiss Guard fantasies for me — because how could you not want to be spanked by someone in that get-up?!
My fantasy runs like this … I get into Vatican City wearing a cardigan over my tube top, but it's a hot day, and also, I like the idea of naughtily flashing a bit of skin where I shouldn't.
So the cover-up gets stuffed in my bag, and I take in the sights showing off not only shoulder, but a few inches of stomach as well! (And, actually, since I actually usually wear low-riding trou, that could be quite a few inches of the middle of me uncovered!)
I've gotten my shots of famous statues and buildings, bought some postcards, and am ready to head back to the tour bus … when two Swiss Guards bear down on me, berating me in thickly accented English. There I am in a corner, away from the other tourists, trapped by the two overbearing guards….
Here's where my fantasy breaks up a bit, because what shall they use on me?! Take off their leather belts? Use the scabbards of their swords? Or do Swiss Guards carry some esoteric, medieval tool of correction?! (And/or do they use their rough, sword-callused hands?)
Anyway, no matter what they use, we all know it ends with me walking stiffly to my tour bus, eyes red-rimmed, and sweater on and buttoned all the way up!
Am sitting at the local café. School must have recently ended for the day, because it's stuffed to overfilling with schoolgirls. (And schoolboys. But I'm afraid my point of view on teen and pre-teen boys is that they are mostly just zitty, unwashed little monsters which it's best to ignore whenever possible. A perspective I wish I'd had when I was a teenage girl!)
It makes me think of Abel and Haron, and their ability to turn any situation into a spanking one. (Although if I couldn't manage to make a spanking situation out of a café full of schoolgirls, I shouldn't be entrusted with a keyboard and WordPress account!)
So, here goes my "perverting reality."
Breckenridge Academy, California's most prestigious prep school, lets out for the day at 3:30 PM. It's a time of day which Frank Sarchimor, coffee-shop proprietor, dreads. His café is just a block away from the academy, and he almost thinks he can hear the final bell ringing in his head every day.
At 3:40, his clean, well-lighted café is suddenly deluged with a range of kids who are loud, prone to shoving or just general clumsiness (he's had to move the sales displays behind the counter), and just generally unmannered and unruly. After backing up the line at the counter so that customers are frustrated, they all also order iced blended mochas with shots of flavoured syrups (as if they needed the caffeine and sugar!), which throws his baristas into a frenzy of trying to get these complicated drink order fulfilled, which slows things down all the more. And the kids don't tip, of course, which makes his baristas cranky.
By about 5PM every day, his beloved café is trashed. Straw wrappers everywhere (how did they get them to stick on the ceiling?) empty plastic cups, crumbs from brownies and rice krispy treats which had been used as projectile weapons between flirting boys and girls. Frank has to chip in on the clean-up every day, because if he doesn't he fears his baristas would just go work at another café, and he'd finally just gotten them trained up right! The signs he keeps putting up on the walls, to "respect others and keep the noise down," to "please have your order ready when you got in line," and to "please bus the tables yourself," are roundly ignored.
Then, the final nail in the coffin. Frank came out from his office after a particularly intense period of sound and fury to discover that a number of the thick coffee frappes had been spilled across the floors and tables and chairs like a Jackson Pollock piece. With java chips. The last two kids were sauntering out of his café, two girls in what seemed to be much shorter than regulation pleated skirts, blouses unbuttoned to show as much cleavage as possible, and insolent looks on their faces. Frank lost it and started yelling at them, demanding they come back and help clean up the mess they'd made. They just looked at him in patent disbelief, stuck out their tongues, and ran out the door giggling.
Frank made an appointment to speak with the head of Breckenridge Academy the next morning.
Mr. Morgans welcomed Frank to his office the next day. Frank had been concerned that, given the attitude of the spoiled brats who'd been frequenting his establishment, that his concerns would be brushed aside. But Mr. Morgans and he had a very satisfactory meeting of the minds, which led to Frank returning later in the day for a special school assembly….
When Kristin and Susan saw the coffee-shop guy on-stage with Mr. Morgans, they had yet another fit of giggles. How ridiculous that this little man had complained about them and their classmates! The Academy kids brought good money to his café, and had as much rights as any of his other customers – just 'cause he didn't like kids was his problem, not theirs!
Their giggles died away when they suddenly became aware that Mr. Morgans had called them both up onto the stage. They suddenly became intensely aware that the gym teacher had dragged a vaulting horse on-stage.
Mr. Morgans' mood was not improved by the fact he had to call them up more than once, and that they came dragging their feet and slouching….
Mr. Morgans explained that while he knew Kristin and Susan were not the only offenders, they would serve this time to be an example for the whole school – Mr. Sarchimor and his café would be treated with respect, or more disciplinary actions would be handed out. If Mr. Morgans had to punish every student in the school, he would, and they had better believe it. Breckenridge Academy had very high standards, and the students would live up to those standards, or learn how to do so the hard way.
First Susan, then Kristin, had to lean over the horse, and suffer the embarrassment of their skirts flipped up. Mr Morgans himself personally attended to the punishment, using a paddle which was the subject of school myth, but which had, obviously to the detriment of the student body, not been used in years. It was worn quite smooth from years of being applied to errant school-children's bottoms, but the smoothness did not in any way mitigate either the pain of the impact or the hideous stinging burn that lasted long after the stoke.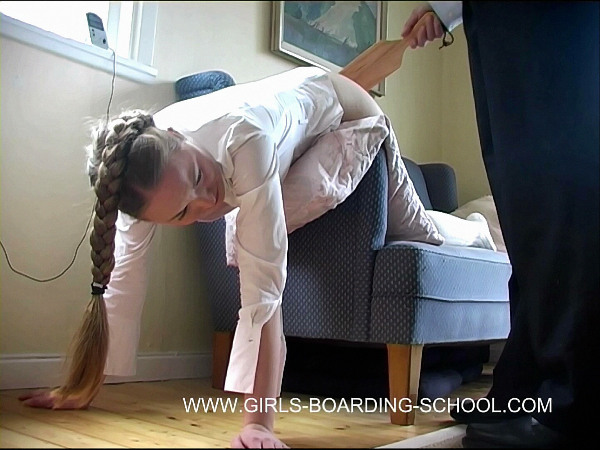 Image Courtesy of
Girls Boarding School
It was twelve each, due to the fact that this bad behaviour had been going on for some time, now. Well before the twelfth whack, Kristin and Susan were howling, their faces red and wet with tears, their eyes puffy, and their noses requiring frequent sniffs to keep from embarrassing them further.
The assembly was silent, except for the occasional gasp of sympathy. Although some of the kids looked somewhat less terrified and more simply fascinated in the show….
As for Frank, he got to watch the whole thing. He was very satisfied seeing Susan and Kristin reduced to blubbering and very sorry girls, and he deeply enjoyed every moment of their stuttered apologies.
He was so pleased, he invited Mr. Morgans down for a cup of java, on the house. And over the steaming beverages, they shared some ideas for future school assemblies.
Because, after all, the youthful memory can be so short, can't it. You just can't keep down those high spirits. No, there would be plenty of reason to bring out the paddle in the future, and Frank was more than ready to help keep up the standards of the Academy and the community.
I've been organizing the books in our apartment, as they are threatening to take over the place, and I found this gem among Papa Otter's erotica collection.


The cover is more funny than arousing (to me, anyway) but what is lovely and even in it's own way arousing is the innocence of the image. No worries about feminism, here, no angst about if spanking your wife is okay, no confusion about whether discipline should have sex involved (the author thinks it should, if you can't tell by the spanker's humongous erection!) — these are some happy '60s swingers who explore their desires with an almost child-like innocence.
The book cheerfully merges domestic discipline with sex (and swinging, because once you find out the neighbours like spanking, too, the obvious next step is to spank and fuck the neighbour's wife, non?) in a way that is very heartening for me, because Papa Otter and I find they mingle very well indeed, and I was very surprised when I came across the DD [Domestic Discipline] community and found out that I wasn't supposed to want to mix those things!
My favourite example of this (and I really need to carry the URL for this site around with me, because when I tell people about it they just can't believe me) is this fabulous article, Thanking the HOH — The "Formal Thank You" as a Non-Sexual Act. I don't know how I found it, but once I realized what I'd come across, I had a reaction that combined all the best aspects of shooting my drink out my nose and punching the air and shouting, "Yes!"
Read the rest of this entry »